Are you ready to start a blog and share your passion with others? After blogging for over 10 years and being a researcher to my core, I've learned a thing or two and I want to share it with you. Blogging doesn't have to be complicated.
You can get started blogging today if you're ready. Let's get going!
If you know what you're looking for, click the link below to go directly to the section you need.
Plugins
Ready to start a blog? Check out this comprehensive post I've created to walk you through how to start a blog in five simple steps. Here's a quick breakdown of what you need to start a blog and my best recommendations based on my own experience.
How to Start A blog
DOMAIN
Your domain is the URL address that people will use to go to your site. Ideally, this domain will be the same as your blog name and what you will use for social media.
HOST
A host is like the land your site is going to sit on. Your host holds all the super techy stuff and stores all your information. Your host is a big factor when it comes to downtime and site speed.
Bluehost is a great host for beginners just starting out. Bluehost is inexpensive and really easy to setup. Get started with Bluehost for LESS THAN $3/month!
DESIGN
A theme is what makes your site pretty. It brings your site character and a personality. You don't need a theme, but if you aren't comfortable with html and css, a theme helps you make a pretty site.
Questions to ask when choosing a theme:
Does it have good reviews? Google it.
Check out sites that have that theme installed. Do they look cookie cutter or personalized?
Is support provided?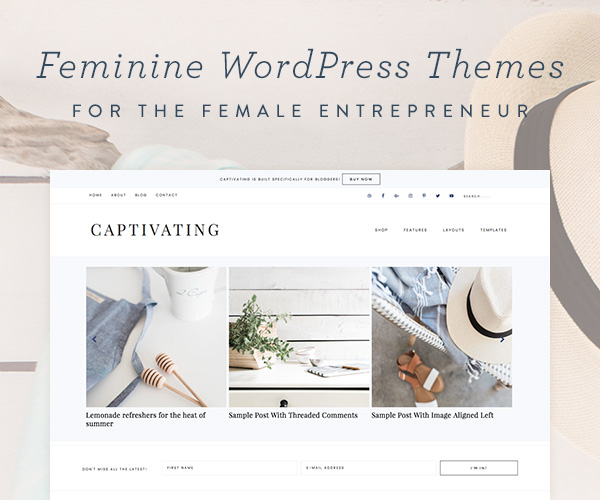 I have used three different Restored 316 themes in the past and highly recommend them! If you're looking for well-designed themes and a great support team, check them out.
My current theme is with Envato and I'm obsessed with it! I love how many design options they have.
THRIVE THEMES
Thrive Themes was the best purchase I made in 2018 for my business. Lots more to come, but if you have a blog, you need it.
EMAIL MANAGEMENT
Read about how I use ConvertKit to automate my business and consistently connect with my readers here on my ConvertKit review.
Grow your list easily through pop up boxes, ribbons, in-content boxes, and much more using Thrive Leads.
The best way to create landing pages to drive sales, promote products, and grow your list.
The best way to A/B test your landing pages and opt-in boxes for WordPress to increase conversions and sales.
organization tips
asana
The ultimate task management system to keep you (and your team) organized. I also use itto keep track of household duties like laundry and vacuuming so it never slips my mind.
Airtable
It's like if Trello, Asana, and a spreadsheet had a baby. It is the ultimate database with multiple views and it's exactly what you didn't know you needed.
google drive
Social media
Pinterest Scheduling
Facebook Scheduling
instagram Scheduling
Social warfare
Are you struggling with your Pinterest? Is your growth stagnant? Sign up to have me review your Pinterest account and give you practical tips to take your account to the next level.
Photography Resources
I used a Canon t2i for years and then upgraded to the Canon sl2. When I have big shoot or big reveal I rent a Canon 5D Mark IV for $30 for the weekend from a local camera shop. Below I've linked all my photography recommendations based on exactly what I use.
Once you have the equipment, it's time to learn how to use it. Photography is all about trying and testing and playing around until you get comfortable with all the equipment.
Photoshop and Lightroom will be a game changer when it comes to editing your photos. Lightroom will save you hours of time and Photoshop will make fine tuning adjustments easier. 
If you're just starting out, I challenge you to take one photo a day with your nice camera on manual for at least 30 days. If the idea of manual is intimidating to you, I highly recommend Aniko's book, The Ultimate Photography Book for Bloggers.
I learned everything I know about Lightroom from Beth Bryan's quick course, The Lazy Girl's Guide to Lightroom. Unless you consider yourself a master at Lightroom already, add this course to your education arsenal and learn many time-saving hacks and editing tips using Lightroom.
Let's make money!
Want to make money while you sleep? Me too!
This ecourse from Tasha, Designer Trapped in a Lawyer's Body, on how to earn real money from your blog by sharing affiliate links in a way your readers will enjoy and appreciate could be life-changing for you!
This course is only offered twice a year for 5 days, so I strongly encourage you join the waitlist to be notified as soon as registration opens, as space is limited.
In the meantime, you'll get a FREE copy of Tasha's Quick-Start Guide to Affiliate Marketing mini eBook so that you can start your affiliate marketing efforts right away.
RewardStyle allows you to quickly and easily connect with 1000s of top notch brands to promote their products and earn a small commission while doing so. It can be tough to be accepted into the RewardStyle affiliate network and we've found that you are more likely to be accepted if a current member invites you.
If you would like to be invited by me, fill out the form by clicking the button below. Please keep in mind that all RS publishers must have at least 4 months of consistent content that contains the following attributes:
Engaged and Growing Audience
Consistency
Quality and Original Content
Clean Editorial Design
RETURN TO TOP
Education
Always keep learning! Always keep pushing yourself to learn what you don't know. I might be called a "course junkie" in my circle of friends and I'm a-ok with that.
Here are some of my favorite free and paid courses I would recommend you look into.
FREEBIES
Paid
PLUGINS
Plugins You Should Install
Akismet
MiloTree
Pretty Links
Related Posts
Social Warfare
ThriveThemes
Tasty Pins
Vault Press
Yoast SEO — a great test to see how great you're doing at communicating your post message to search engines
SUBSCRIBE
ProBlogger with Darren Rowse
Online Marketing Made Easy with Amy Porterfield
Goal Digger with Jenna Kutcher
Simple Pin with Kate Ahl
Smart Passive Income with Pat Flynn
Do It Scared with Ruth Soukup
Rise with Rachel Hollis